Review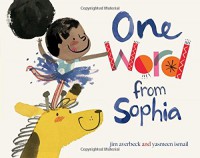 I loved this book!

Sophia was great--she had such wonderful movement and expressions.

All she wants is a giraffe for her birthday and she uses all her best arguments and tailors each argument to each individual person in her family.

I also loved that there were some nice long words in the story (with helpful definitions in the back of the book!)

Does she ever get her giraffe? You have to read and find out!!